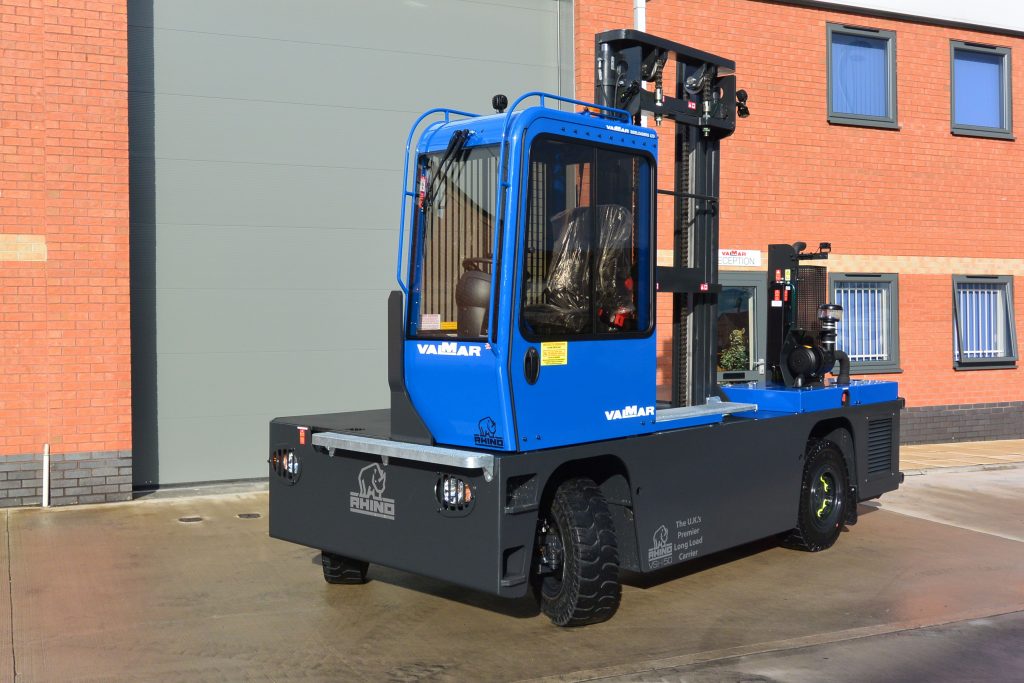 Valmar, a leading independent Sideloader Specialist and distributor within the global handling industry sector, have built an enviable reputation specialising in distributing Sideloader trucks over the last 20+years.

Having originally created its business through the distribution and service of Sideloaders within the UK, Valmar have designed and developed its own Sideloader product range for manufacture and distribution globally through its own UK based company, Valmar Handling Services Limited.

The Valmar Sideloader product, the Rhino, includes within its design specification all the benefits of Valmar's 20+ years experience,resulting in a truck that Valmar believes offers unrivalled durability and serviceability versus any other Sideloader currently available.

The product has been designed and manufactured incorporating the highest quality components sourced from industry recognised leading suppliers to meet the most demanding needs of Sideloader users,mainly in the Timber and Steel industries, to deliver maximum uptime performance which is so vital to customers operations.

In this intensively competitive business environment, Sideloader users rightly demand a product that delivers excellent performance over a sustained period under continuing intenseworking demands. The Rhino has been designed with exactly that in mind and with Valmar's excellent continuing support after truck installation, will ensure that the truck delivers the highest performance day in day out year after year.

Valmar's primary objective is to develop a long lasting partnership with its customers by meeting their expectations in full through the provision of quality products, first class responsive support and overall excellent service.
In this current climate Valmar are now focused on providing the market place with Class 1 Refurbished Sideloaders.
Valmar are also being asked by their key accounts to refurbish their existing Valmar branded products to give them an extended working life. The potential savings by refurbishing can be as much as 40 – 50% compared to the purchase price of a new truck.
The robust design / construction of the Valmar product range in particular is proving that the product is worthy of refurbishment / upgrade and giving customers value for money in the long term.